Get out of your comfort zone and into CoMFY's zone this weekend: The Beacon-based CoMFY art collective presents the 4th annual group show at the Howland Public Library. Yellow Wallpaper Revisited showcases artwork by nearly 30 Hudson Valley women, drawing inspiration from a controversial short story, The Yellow Wallpaper, written in 1892 by early feminist Charlotte Perkins Gilman. The show opens with a reception on March 10, part of can't-miss Second Saturday festivities in Beacon.
Michelle Rivas, the exhibit's coordinator and an artist in the show, describes the groundbreaking source material: "The Yellow Wallpaper tells the story of a young woman's descent into madness while confined to a room with yellow wallpaper. With no other stimulation, she begins to obsess about the wallpaper's pattern until she imagines there are many women trapped inside the design." According to Wikipedia, "Gilman wrote this story to change people's minds about the role of women in society, illustrating how women's lack of autonomy is detrimental to their mental, emotional, and even physical well-being.
Feminism and Artistic Identity, Spanning Two Centuries
Delving into the inner emotional lives of women, especially mothers, Gilman once claimed that The Yellow Wallpaper was "not intended to drive people crazy, but to save people from being driven crazy, and it worked." Making art - whether with paint, ceramics, drawing, fabric, fiber, photos, voice, or dance - is an outlet by which people may plant a flag, declare identity, and save themselves from being driven crazy.
Gilman's art - writing - was a revolutionary act of expressing identity. She explored the limitations imposed on 19th-century women, as well as what happens when prisons get created in our own minds after we take advice from supposedly well-meaning but clueless authority figures (often men, especially 126 years ago...remember that time when married women couldn't open bank accounts or own property?).
As women's voices and powerful stories have been amplified over the past year or two in the United States, Gilman's early feminist work has seen new light, and struck a nerve. This exhibition is an ideal place to check in with the creative identities of women based in the Beacon area.
What or Who is CoMFY? Beacon Women's Balancing Act
Many of the presenting artists will be familiar to longtime fans of Beacon-based art, and anyone who has been paying attention at Beacon Open Studios and other local events for the past decade and a half. All of the artists belong to CoMFY, which stands for Creatives, Mamas, Friends and Yahoos.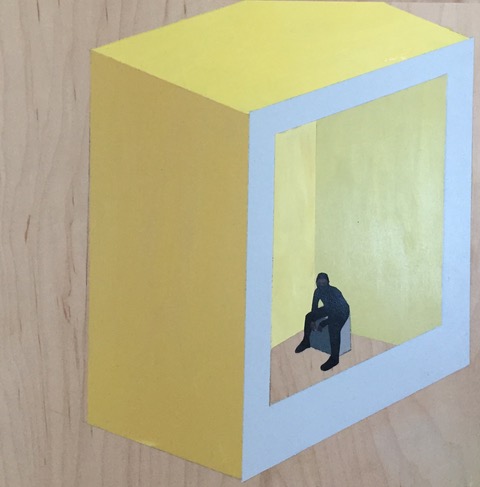 Way back in the fall of 2011, a few Beacon women got together over coffee for a conversation about the challenges of balancing life and creative endeavors. Kat Stoughtenborough and Jennifer Sarah Blakeslee used the momentum to get a group going in a more organized, though informal, way. (Kat was no stranger to gathering artists for cool events. She was the heart and muscle behind CherryBomb, one of Beacon's first holiday shopping pop-up dreamscapes. It showcased the work of both male and female artists, transforming the Zora Dora's paletaria space into a winter wonderland.) Though the group's members don't meet up as often as they'd like, they say, they're proud that the supportive network has endured.
Yellow Wallpaper's themes resonate easily with women, those who have kids and those who don't. Blakeslee, who has been diagnosed with clinical depression, anxiety disorder, and bipolar disorder and is an outspoken advocate for mental health awareness and therapy, made an especially personal connection between her piece and the short story. "I've never done anything like this before, where I use another medium alongside a photograph. ... It feels good to break out of my comfort zone, too, especially about a story that explores the terrifying, twisty tunnels of mental illness."
Yellow Wallpaper Revisited's participating artists include Maria Amor, Anna Bergin, Jennifer Blakeslee, Holly Bogdanffy-Kriegh, Lily Burana, Kit Burke-Smith, Arabella Champaq, Caiming Cheung, Dana Devine O'Malley, Jan Dolan, Mary Ann Glass, Theresa Gooby, Cindy Gould, Philomena Kiernan, Margot Kingon, Margaux Lange, Lori Merhige, Jean Noack, Virginia Piazza, Jaime Pivar, Michelle Rivas, Keely Sheehan, Christine Seymour Price, Jennifer Smith, Bekah Starr, Kat Stoutenborough, Anna West, and Regina Williams.
Yellow Wallpaper Revisited opens Saturday, March 10, and runs through Friday, April 6. An opening reception will be held on Saturday, March 10 - Beacon's Second Saturday! - from 5 to 7 pm. Otherwise, the Community Room Exhibit Space is open during regular library hours; find them at the Beacon library's website.